Fly Tip Clearance Services

Aberdeen
We are a full-service clearance and waste management company, offering waste clearance services for fly-tipping sites in Aberdeen.

Office Clearances
Commercial Clearance Specialists


Fly Tipping Clearances
Fly Tipping Clearance Services

Environmentally Friendly
Our recycling rate is over 90%.                          
  Fly Tip Clearance Services
Aberdeen
We provide rapid and professional services for clearing and removing fly-tipped waste in and around the Aberdeen area.
We carry out work for Property Managers, Head of Estates, private and commercial landlords and agricultural land owners.  Unfortunately anyone is susceptible to having unwanted rubbish fly-tipped on or around their property, that's where we come in.  We have various forms of plant and machinery to assist with fly-tipping.  We provide mechanical assistance via clamshell, diggers or telehandlers depending on the scale of the project.
Our fly-tipping clearance team are fully licensed and will remove fly-tipped waste from public or private land and clear it in the safest way, making sure the area is environmentally-friendly and clean.
We are a fully licenced Waste Contractor and we're also compliant with ISO 9001, ISO14001 as well as being SafeContractor approved.
Contact Us
We enjoy nothing better than taking on a project or challenge other companies might shy away from. We're a 'think on your feet & out of the box' kind of team and we'll always come up with a solution for our clients, albeit this might take a bit of head-scratching.
Our Office
Head Office: 47-51 Glasgow Rd, Rutherglen, Glasgow G73 1LJ
Open Office Hours
M-F: 8am – 6pm
Get in Touch
0333 880 6800
About Fly Tipping Waste Removal
In removing unwanted and fly-tipped rubbish, we make sure the area is hazard free and returned to a safe and presentable state, decreasing the risk of waste impacting the surrounding area, wildlife and the general public. Fly-tipping is a problem in the UK, which Keep Britain Tidy defines as "the illegal deposit of any waste onto land that does not have a licence to accept it." The estimated cost of this endeavour amounts to an astonishing £86m – £186m every year. Private landowners and taxpayers suffer from the expenses on top of that.
We like to keep Aberdeen's green spaces clean for the sake of our local environment. If you, or someone you know, see some rubbish left out in the open by fly-tippers, don't pick it up yourself as it may contain hazardous waste. Let Jettison Commercial Clearances, fly-tipping waste removal service give you a helping hand.
Fly Tipping Clearance Services Aberdeen
Remember, Fly Tipped Waste Can Be Dangerous
Illegal dumping of waste harms a wide range of facets of human existence. Fly-tipping may have a significant impact on people's daily lives since it can negatively impact local businesses and property values. Fly-tipping waste could also contain hazardous material that may pose health risks to those living in the neighbourhood due to the presence of pests and flying insects and unpleasant odours from the trash.
There is more to illegally dumped rubbish than the stench and horror that comes with it. There could be several health and safety issues that may arise. Chemicals in fly-tipped waste might pollute the soil, which could have severe effects on nearby animals and businesses. Fly-tipping can hurt the ecosystem significantly as well as pose a health risk.
Additionally, it's also important to remember that "dodgy waste firms" which partake in fly-tipping can also be operating in other criminal activities. In fact, in the past, the Home Office has issued a warning about illegal waste firms.
Combined years of industry experience
Fly Tipped Waste On Your Land – What Should You Do?
Firstly, if the waste has been illegally dumped onto your land or property, you should report it to the Environment Agency. However, it is important to remember that the Environment Agency has no obligation to remove the illegally dumped waste; as such, you may need the assistance of a waste management business that can provide a convenient and cost-effective clearance service.
It is very important that you do not dispose of fly tipped waste yourself. Illegal dumping of waste could contain a diverse range of harmful and hazardous materials. For example, hidden inside a bag labelled as waste paper could be sharps or unsafe items such as clinical waste.
Consider the fact that you have a legal and moral obligation to guarantee that all of your waste is properly disposed of. That is why you should only work with companies like Jettison Commercial Clearances when looking for a fly-tipping removal service.
Call Us –  Fly Tipping Removal Company Aberdeen
Fly tipping should never be tolerated, even if it's illegally dumped, whether on public land or private land. No one knows what hazardous material and toxic chemicals it could contain. Call a licensed waste carrier as they know the proper disposal of illegally dumped rubbish.
What If You Catch them In The Act?
People who fly-tip rubbish should not be approached or placed in danger if caught in the act. However, you should record the waste crime and take note of the type of rubbish being discarded, including the description of the person or persons involved and the characteristics of any vehicles involved, such as their registration number.
Report fly tipping incidents to the local authorities with this information, including the date and time.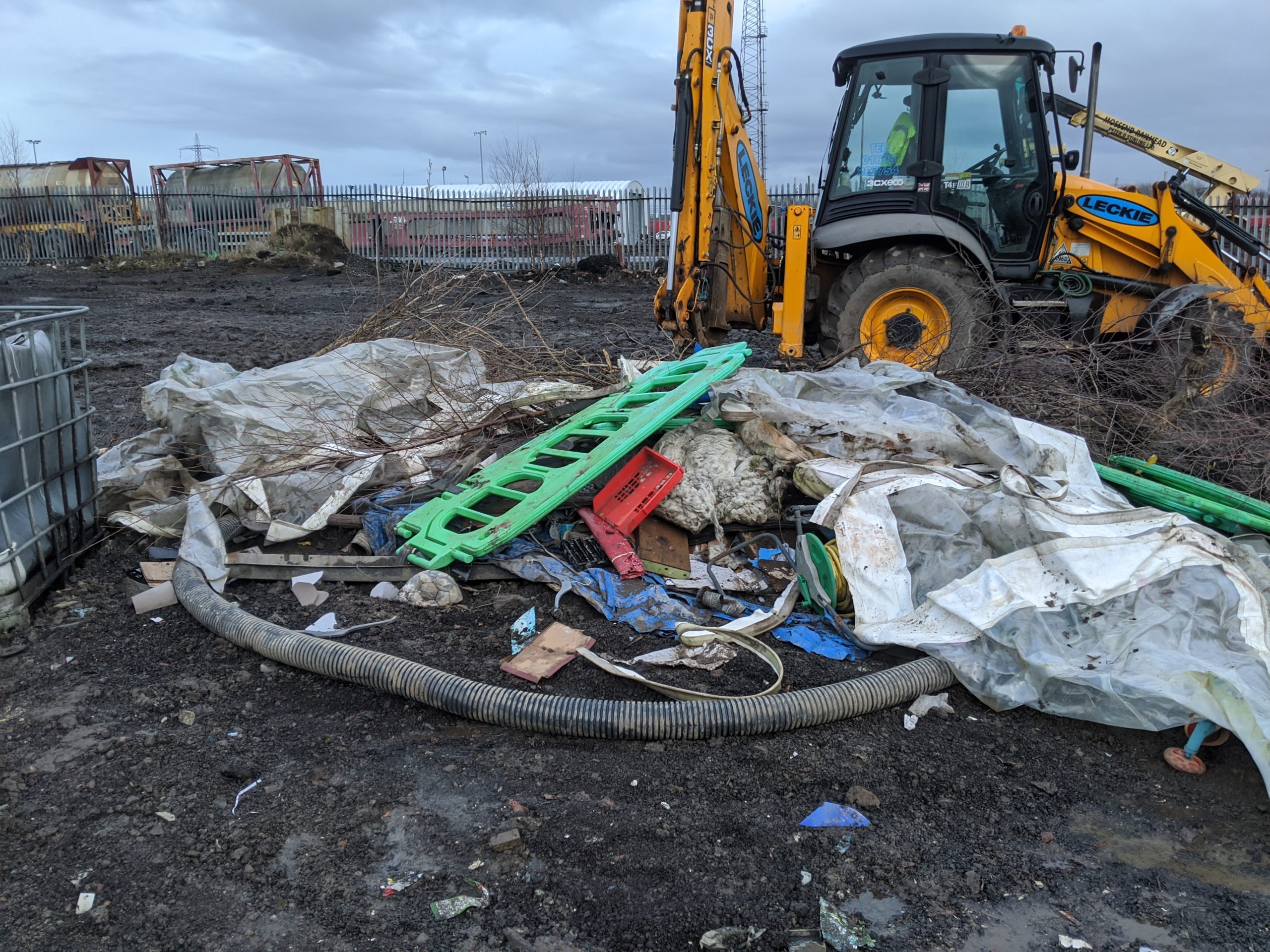 Call For a Quote:
0333 880 6800
We are a small, innovative business based in Glasgow
We're happy to provide references where required and we're proud to be SafeContractor Approved along with our ISO9001 and ISO14001 certifications.     
What do we take?
We can take most items, except for food waste and asbestos.      
How does it work?
Every clearance job is different. We will assess each job individually and provide costs and timescales to suit. Give us a call and we'll take it from there.
How long does it take?
If you call to organise a quote or book in a job -sometimes we can arrange for the same day but generally a day or so notice is perfect. We'll schedule an appointment that suits you and a member of the team will give you a courtesy call 15 or 20 minutes minutes before arrival.
How do you take payment?
Our invoices are payable on receipt & we email them out on completion of your job.  The majority are paid online or by BACS transfer, however, our truck teams can accept cash or cheques on the day.
"First class service. The guys were smartly presented and the van was clean and tidy. Very professional service. We have used previously and always helpful and responsive."
"Jettison are a company who I have used regularity for some time, they are always very responsive, value for money and extremely professional. The service is also flexible and I would recommend them to anyone."
"Worked with Jettison a few times and must say have been impressed by the general response to our requests and couldn't have done enough to sort out a tricky waste removal from a city Centre site."
We enjoy nothing better than taking on a project or challenge other companies might shy away from.  We're a 'think on your feet & out of the box' kind of team and we'll always come up with a solution for our clients, albeit this might take a bit of head scratching.
Our Office
Head Office: 47-51 Glasgow Rd, Rutherglen, Glasgow G73 1LJ