We are a full-service clearance and waste management company, offering bulky waste clearance services for commercial, industrial & residential premises. We handle the difficulty of safely disposing of waste, ensuring that it's recycled, removed and disposed of responsibly.

Office Clearances
Commercial Clearance Specialists



Environmentally Friendly
Our recycling rate is over 90%.                          
House

Junk Clearance

s Paisley

House Clearances Services Paisley – We perform full house clearances, removing all kinds of junk such as carpets, cookers, washing machines, all clutter, general rubbish & old furniture. We are house clearance specialists, also offering a waste disposal service for garages, lofts, office spaces and commercial buildings around Paisley and the surrounding area as well as across central Scotland. In addition, we offer both a garden clearance and garage clearance service. We make the house clearance process a simple one, regardless of complexities such as parking issues.
Junk Clearance Paisley
Looking for a house junk clearance service in Paisley to remove waste from your property, garage or loft? You will want a local Glasgow based company that will make the process straightforward and hassle-free.
Let us take care of all your household clearance requirements, whether it's a new home extension, redecorating project or simply clearing out your old rubbish and household junk. Why keep all that rubbish around you in your Paisley home or office space, when you can let us clean it up for you and take it away in just a matter of a couple of hours? Please contact us today for more information and a free quote.
Professional Household Clearance in Paisley
If you have a habit of keeping stuff hoping you might use it once, it's no surprise you might have ended up with a lot of junk and clutter around your Paisley home. As a general rule, if haven't used something in over 6 months, it's time to get rid of it! But don't fret just yet – you don't have to waste your time when our home clearance service can help you with household clearance.
We provide a professional and efficient junk waste clearance service in the city of Paisley and the surrounding areas.
We Do All the Heavy Home Clearance Work
We are well-equipped to collect all types of household waste in our specially adapted vehicles and not only that, we try our best where possible to ethically dispose of your household junk so you can feel at ease that you are doing your best for the environment too.
Our Professional uniformed teams are punctual, friendly and professional and will clean up afterwards, leaving the Paisley property tidy.
No Need to Hire a Skip
Have a look at our blog to find out the benefits of a home clearance service over hiring a skip. Whilst it may seem like the ideal solution at the time, hiring a skip means you have to do all the heavy manual lifting yourself.
Why would you need a skip hire service, when you can book a flexible home clearance with us? We will deal with your rubbish removal efficiently, responsibly and do all the hard work for you!
Save yourself time by using our Paisley house clearance service, we offer professional household clearance service across Paisley and the surrounding areas.
We can handle any Paisley house clearance – large or small. Our property clearance team of junk clearance professionals come prepared to complete your job quickly and efficiently. Carpets can be ripped up, kitchens emptied, sheds and garages returned to spacious areas. We have multiple vehicles if your job is large and needs to be carried out quickly!
Jettison understands the obstacles a company may face when trying to arrange a house clearance or office clearance along with a relocation or storing items. It can be tricky!
​ We specialise in House clearance and office Clearance, which means we offer a full site survey and dedicated project manager with each clearance, at no additional cost. That can mean a huge weight off your shoulders. . .
We carry out house clearances for numerous reasons. Whether you are a landlord, renovating a property or require a sensitive clearance following the passing of a relative, we are here to help. We are sensitive to each and every situation, the staff are careful in and around your property, wear shoe protectors and keep you abreast of the progress throught the clearance. We are happy to liaise with your solicitor or estate and letting agents to pick up and drop off keys if you are not local to the property.
Friendly

Glasgow

based

business

Efficient and flexible with a "Can Do" ethos
Pristine vans with secure

furniture

fixings
3.5 Ton Luton vans for a speedy and efficient

service

Excellent online reviews on Google and Facebook
Fully insured and registered with the SEPA
House clearance Paisley experts
Friendly local

service

with professional standards
Quotes within minutes during

office

hours
Punctual and reliable – on time, every time
Serving

Paisley

,

Edinburgh

, Aberdeen and Dundee
Combined years of industry experience
Home Clearance Service Paisley
Our Paisley house clearance service includes….
Leaving your property clean and tidy, we tidy up after every job we do leaving your home free of junk, clear and tidy. So no need to worry about coming back to additional work once we've finished.
As much of your house waste will be recycled or reused as appropriate, nothing goes to landfill (if at all possible) and because we are fully licensed and insured you can feel confident that your waste will minimise any negative impact on the environment. Simply book us in and we will do the rest.
A professional Paisley waste clearance service
We have the necessary accreditations and insurance to carry out your waste removal. But more than that, we pride ourselves on our professional, highly trained and friendly teams that will arrive on time to do the job at hand. In the rare instance of a delay (usually the Kingston Bridge traffic), we will contact you with a revised arrival time and keep you informed of any changes.
We have a wealth of experience in household waste collection and that's why many letting agents, estate agents and landlords trust us with their properties. They know they will receive value for money and high-quality service from us every time.
Junk Clearance Specialists
Our Commitment to Charities
We are able to offer a circular economy approach, with an eco-friendly service. This is due to our extensive reuse & charity network.
Jettison House Clearance
Jettison is a forward thinking house clearance company, working with landlords, solicitors, letting and estate agents, house movers and anyone dealing with probate, executors and estates.
Recycling

& Reuse

On almost every office clearance we take on there is some element of 'general waste' and recycling to take on. This is generally for damaged items of furniture, or miscellaneous items found in cupboards and pedestals which we can happily clear for you too. We also offer secure data destruction for sensitive documents.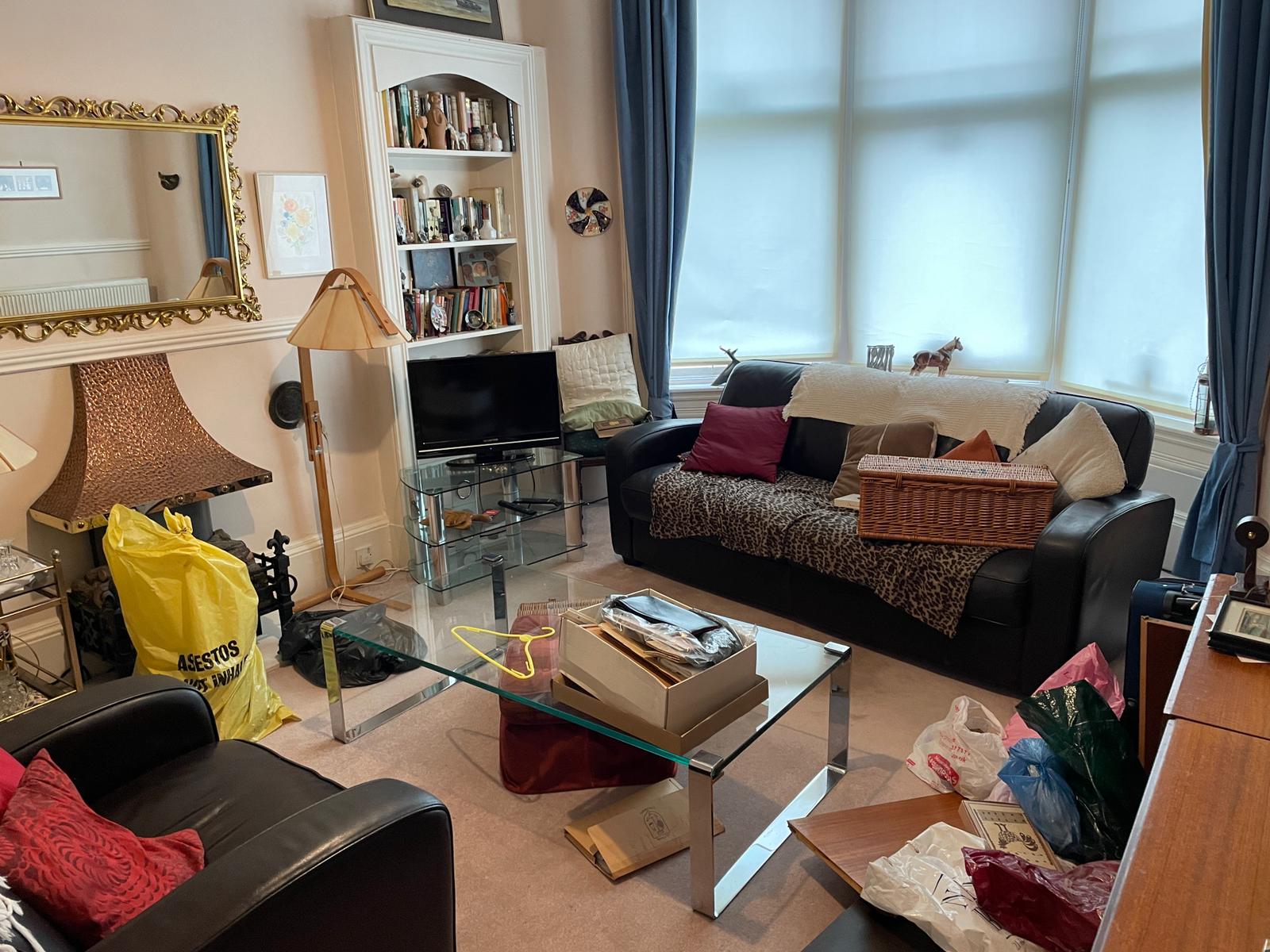 Call For a Quote:
0333 880 6800
We are a small, innovative business based in Glasgow
We aim to be as environmentally friendly as possible.  We've just purchased a fleet of new 'low emission' vehicles.  We aim to run a paperless office – with exciting new technology coming soon and we average a recycling rate of over 90%.      
What do we take?
We can take most items, except for food waste and asbestos.      
How does it work?
Every clearance job is different. We will assess each job individually and provide costs and timescales to suit. Give us a call and we'll take it from there.
How long does it take?
If you call to organise a quote or book in a job -sometimes we can arrange for the same day but generally a day or so notice is perfect. We'll schedule an appointment that suits you and a member of the team will give you a courtesy call 15 or 20 minutes minutes before arrival.
How do you take payment?
Our invoices are payable on receipt & we email them out on completion of your job.  The majority are paid online or by BACS transfer, however, our truck teams can accept cash or cheques on the day.
"First class service. The guys were smartly presented and the van was clean and tidy. Very professional service. We have used previously and always helpful and responsive."
"Jettison are a company who I have used regularity for some time, they are always very responsive, value for money and extremely professional. The service is also flexible and I would recommend them to anyone."
"Worked with Jettison a few times and must say have been impressed by the general response to our requests and couldn't have done enough to sort out a tricky waste removal from a city Centre site."
We enjoy nothing better than taking on a project or challenge other companies might shy away from.  We're a 'think on your feet & out of the box' kind of team and we'll always come up with a solution for our clients, albeit this might take a bit of head scratching.
Our Office
Head Office: 47-51 Glasgow Rd, Rutherglen, Glasgow G73 1LJ