WEEE Recycling + Disposal Glasgow
We are a full-service clearance and WEEE waste management company, offering WEEE waste clearance services for companies in Glasgow.

WEEE Recycling + Disposal
Commercial Clearance Specialists


Fly Tipping Clearances
Fly Tipping Clearance Services

Environmentally Friendly
Our recycling rate is over 90%.                          
WEEE Disposal Glasgow
Jettison is one of the top WEEE disposal and recycling firms in Scotland, serving both private companies and members of the public who need to dispose of electronic & electrical waste in the Glasgow area. Our expert WEEE waste collection and disposal methods benefit our customers and the environment, both of which are a priority in everything we do at Jettison Waste Management.
WEEE Waste Collection + Recycling In Glasgow
We continually strive to provide our customers with a sustainable and cost effective solution to WEEE recycling. From our prompt  'same-day' response service, to any pre-booking questions or enquiries – following on to a clean and timely collection service, we always work hard to deliver the highest standard of service and always with a smile on our faces (even in the dreich Glasgow weather). Our skilled, friendly and professional truck teams take their obligations to you and the local Glasgow community very seriously, so we always ensure that we use the most effective methods for the collection and disposal of WEEE waste items.
As more and more businesses and individuals realise their obligations regarding the safe & environmentally friendly disposal of WEEE, here at Jettison, we strive to be industry leaders by recovering, reusing, and recycling up to 95% of the electrical items and components collected during a WEEE recycling clearance.
Why Choose Jettison for WEEE Recycling and Waste Disposal in Glasgow?
1. We're happy to provide references where required and we're proud to be SafeContractor Approved along with our ISO9001, ISO14001 and Glasgow Living Wage Employer certifications.
2. Jettison can remove practically any amount of WEEE items item without you lifting a finger, and you can be certain that your electronic waste will be properly handled.
3. Jettison aim to be as environmentally friendly as possible when working with your electrical waste. We've just purchased a fleet of new 'low emission' vehicles. We also aim to run a paperless office – with exciting new technology coming soon and we currently average a recycling rate of over 95%.
How to comply with WEEE regulations in Scotland
Responsible WEEE recycling benefits everyone in the supply chain, from manufacturers to retailers to end users. Failure to comply with WEEE rules may result in heavy penalties or even imprisonment. Have a look at the SEPA website for full details.
Combined years of industry experience
Our Other Clearance Services
Office Clearances – At a time that suits you, we can remove and dispose of all office furniture, electrical items and even provide secure disposal of confidential documentation. We will work with your schedule to ensure minimal disruption to your business. We are based in Glasgow but cover the UK. We provide all the equipment & skill needed to clear an office quickly and efficiently.
Fly Tipping Clearance – Our professional fly-tipping removal staff will safely remove fly-tipped rubbish from public or private property, leaving the area clean and safe.
Construction Site Waste Clearances – When working with a construction client, we utilise our knowledge and supplier relationships to offer custom-made construction site clearing solutions all over Scotland. We work with a number of firms who use us to clear their work area as they go, giving them safe,clear working spaces and they use our pick up service where they would have difficulty getting a skip on site. It keeps their tradesmen focused on their jobs and not dealing with rubbish.
House Clearances – Over at our sister company, Jettison Express, our specialist house clearance services include handling jobs from single-item pickups all the way up to multiple truck house clearances. With upfront rates, experienced truck team members and a proven track record in recycling, we are the solution you have been looking for.
Secure and Responsible WEEE Disposal and Recycling in Glasgow
Some items such as fridges and freezers contain hazardous parts which can be damaging to
the environment. You have a duty of care to make sure that they are recycled in a safe manner.
All the electrical waste and electronic appliances Jettison collect are sorted and taken to the most appropriate, licenced recycling facility for safe disposal or recycling. The end effect is preserving important resources, preventing waste from going to landfill and saving energy.
Jettison are a fully licenced waste carrier, registered with the Scottish Environmental Protection Agency and we only use licenced facilities for waste processing.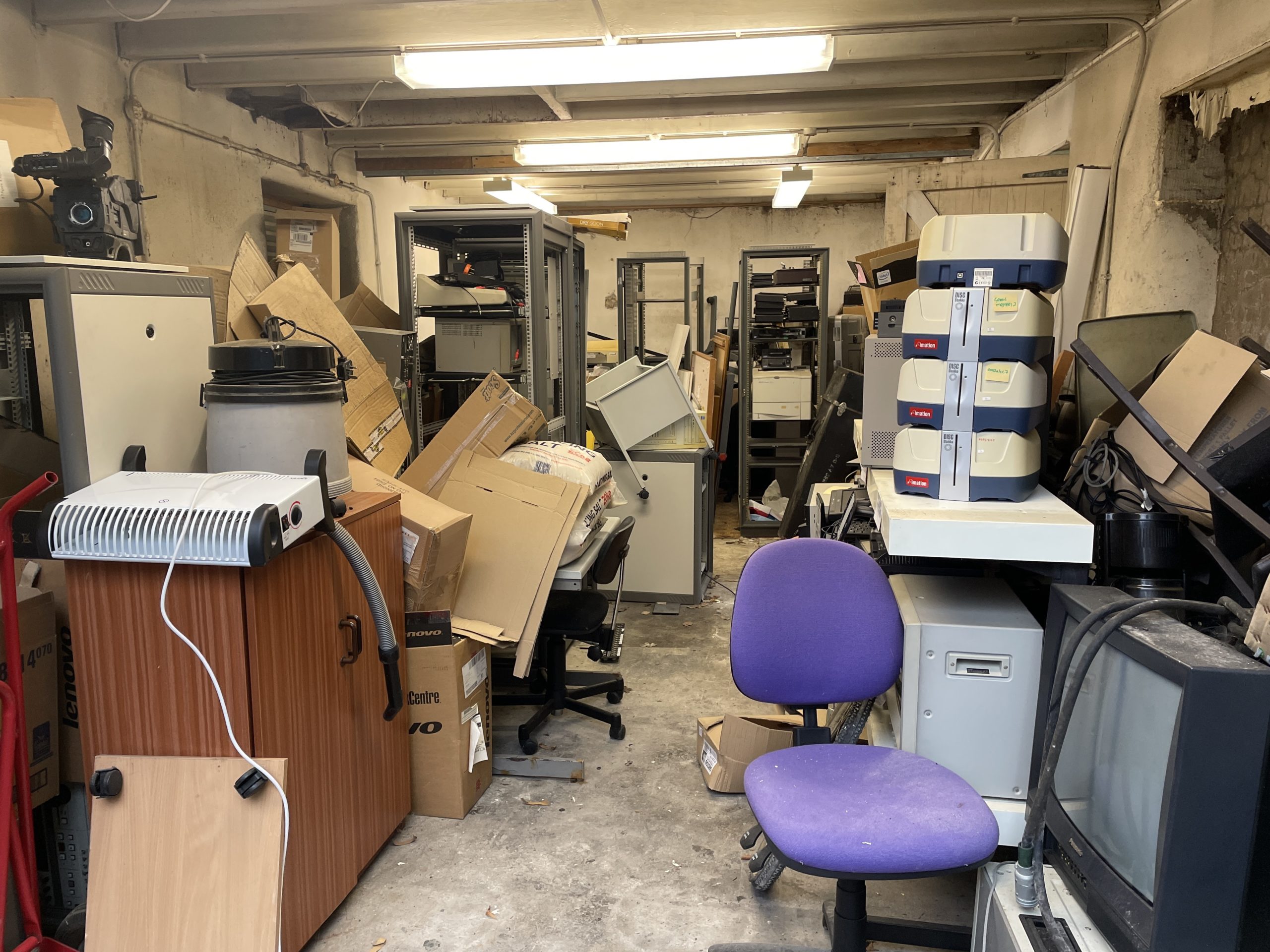 Call For a Quote:
0333 880 6800
We are a small, innovative business based in Glasgow
We're happy to provide references where required and we're proud to be SafeContractor Approved along with our ISO9001 and ISO14001 certifications.     
What do we take?
We can take most items, except for food waste and asbestos.      
How does it work?
Every clearance job is different. We will assess each job individually and provide costs and timescales to suit. Give us a call and we'll take it from there.
How long does it take?
If you call to organise a quote or book in a job -sometimes we can arrange for the same day but generally a day or so notice is perfect. We'll schedule an appointment that suits you and a member of the team will give you a courtesy call 15 or 20 minutes minutes before arrival.
How do you take payment?
Our invoices are payable on receipt & we email them out on completion of your job.  The majority are paid online or by BACS transfer, however, our truck teams can accept cash or cheques on the day.
"First class service. The guys were smartly presented and the van was clean and tidy. Very professional service. We have used previously and always helpful and responsive."
"Jettison are a company who I have used regularity for some time, they are always very responsive, value for money and extremely professional. The service is also flexible and I would recommend them to anyone."
"Worked with Jettison a few times and must say have been impressed by the general response to our requests and couldn't have done enough to sort out a tricky waste removal from a city Centre site."
We enjoy nothing better than taking on a project or challenge other companies might shy away from.  We're a 'think on your feet & out of the box' kind of team and we'll always come up with a solution for our clients, albeit this might take a bit of head scratching.
Our Office
Head Office: 47-51 Glasgow Rd, Rutherglen, Glasgow G73 1LJ