Office Clearances Aberdeen 
We are a full-service clearance and waste management company, offering bulky waste clearance services for commercial offices in Aberdeen . We handle the difficulty of safely disposing of waste, ensuring that it's removed, recycled and disposed of responsibly.

Office Clearances
Commercial Clearance Specialists


Fly Tipping Clearances
Fly Tipping Clearance Services

Environmentally Friendly
Our recycling rate is over 90%.                          
Aberdeen Office Clearance Specialists
Dedicated Office Clearance Team
We have a dedicated team for commercial office clearances in Aberdeen.
We are passionate about clearing Aberdeen offices in the most economical way possible, and I think it's safe to say that we are the industry leaders in doing so. We boast massive landfill diversion rates, ensuring nearly all of your office clearance items are re-used, upcycled, or sent to the less fortunate for reuse in schools and start-up businesses.
We are able to help you not clear just your Aberdeen office furniture items, but clear all of the items in your office, from large stationary items, Old IT equipment, computer cables, general waste and much more. Please call us on 0333 880 6800 to get in touch.
Our Aberdeen Office Clearance Services
Our service includes the full dismantle and removal of office furniture as part of the office clearance package. We understand how tricky and time consuming these tasks can be, not to mention the sheer weight of many of these office items. We use specialist equipment and fully trained staff to ensure the utmost safety of our clients and staff alike during any office clearance.
Office Clearance Service Aberdeen
Our Aberdeen office clearance service includes…
Leaving your property clean and tidy, we tidy up after every job we do leaving your office free of junk, clean and tidy. So no need to worry about coming back to additional work once we've finished.
As much of your Aberdeen office waste will be recycled or reused as appropriate, nothing goes to landfill (if at all possible) and because we are fully licensed and insured you can feel confident that your waste will minimise any negative impact on the environment. Simply book us in and we will do the rest.
A professional Aberdeen office clearance service
We have the necessary accreditations and insurance to carry out your office rubbish removal. But more than that, we pride ourselves on our professional, highly trained and friendly teams that will arrive on time to do the job at hand. In the rare instance of a delay (usually the Kingston Bridge traffic), we will contact you with a revised arrival time and keep you informed of any changes.
We have a wealth of experience in office furniture waste collection and office rubbish removal. Clearing out large office premises may seem daunting at first. However, we have helped many clients clear large sites such as head offices, university campuses and large commercial units. We cover all of Scotland, but if required our team can also carry out clearances across the UK. We assist with all aspects of the job from beginning to end, including planning, project management, audits and compliance. From dismantling office furniture, secure destruction of IT equipment and confidential document shredding, we find a way to dispose of your office contents the most appropriately and sustainable way possible.
We also offer a Aberdeen house clearance service, providing a garage clearance, loft clearance and a garden clearance service.
Combined years of industry experience
Office Clearance Service Aberdeen
Our Aberdeen office clearance service includes…
We can remove and dispose of all your commercial office furniture at a time to suit you. We will work around your schedule to ensure minimum disruption is caused during the clearance process. Based in Glasgow, we cover all of the United Kingdom. We can supply all the equipment necessary to remove commercial office furniture safely and within timescales, with a minimal visual impact on the commercial site.
A professional Aberdeen waste clearance service
We take customer service very seriously and pride ourselves on providing a great service every time. As a tight-knit team with many years of experience in the waste disposal management industry.  We don't believe in gimmicks or bells and whistles. Our energies are focused on our client needs and providing value for money. This ethos has served us well as we work with some well-known household names & a significant portion of our business comes via recommendations.
Office Junk Clearance Aberdeen
Our Commitment to Charities
We are able to offer a circular economy approach, with an eco-friendly service. This is due to our extensive reuse & charity network, we will do our best to put your old furniture, including office chairs, desks and office filing cabinets to good use. 
Office Clearance Aberdeen
Working with small and large businesses across central Scotland to help them reduce their environmental impact when clearing, moving or having an office re-vamp, and also saving them thousands in costs.
Recycling & Reuse
On almost every office property clearance we take on there is some element of 'general waste' and recycling to take on. This is generally for damaged items of furniture or miscellaneous items found in cupboards and pedestals which we can happily clear for you too.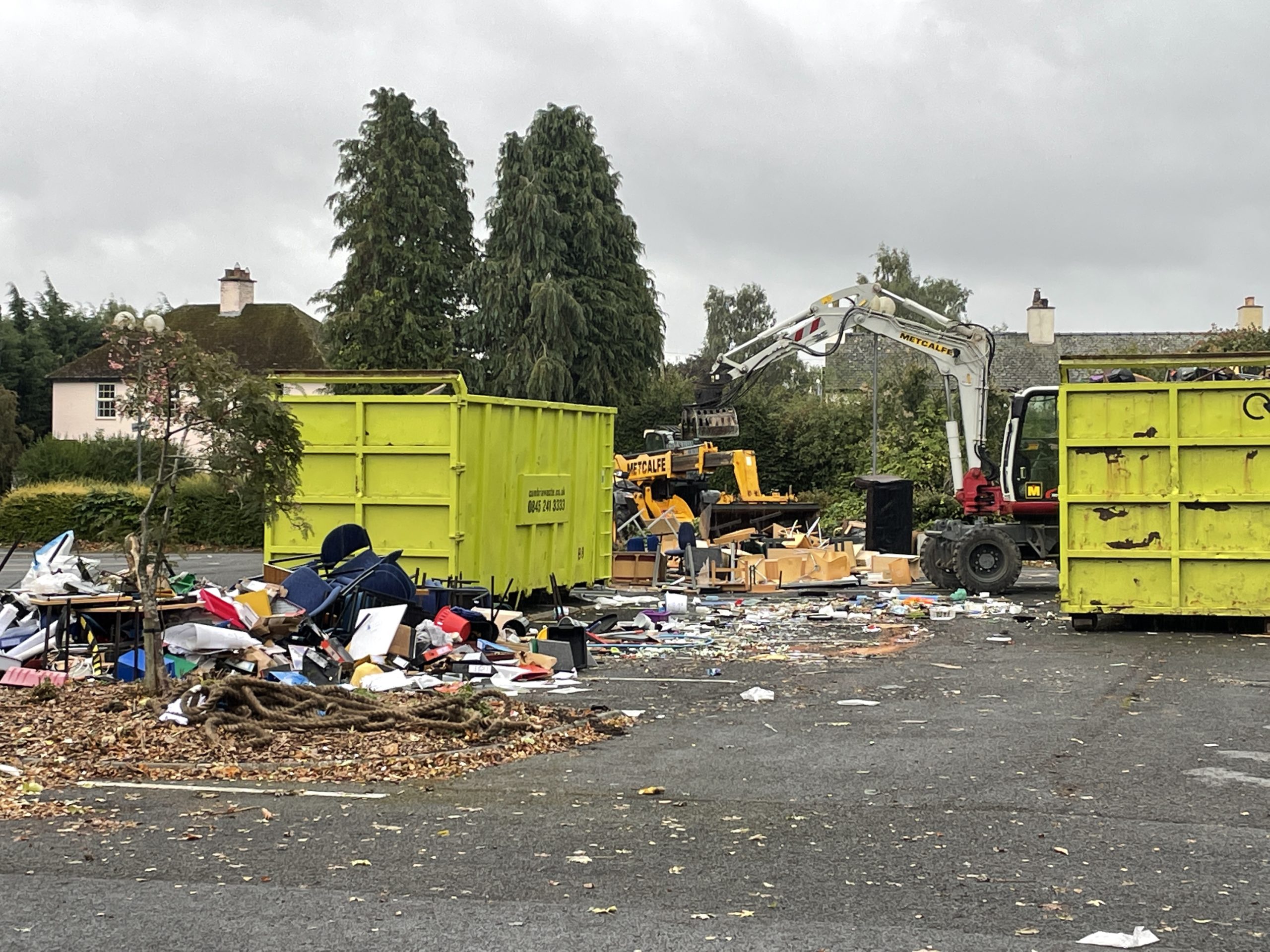 Call For a Quote:
0333 880 6800
We are a small, innovative business based in Glasgow
We're happy to provide references where required and we're proud to be SafeContractor Approved along with our ISO9001 and ISO14001 certifications.     
What do we take?
We can take most items, except for food waste and asbestos.      
How does it work?
Every clearance job is different. We will assess each job individually and provide costs and timescales to suit. Give us a call and we'll take it from there.
How long does it take?
If you call to organise a quote or book in a job -sometimes we can arrange for the same day but generally a day or so notice is perfect. We'll schedule an appointment that suits you and a member of the team will give you a courtesy call 15 or 20 minutes minutes before arrival.
How do you take payment?
Our invoices are payable on receipt & we email them out on completion of your job.  The majority are paid online or by BACS transfer, however, our truck teams can accept cash or cheques on the day.
"First class service. The guys were smartly presented and the van was clean and tidy. Very professional service. We have used previously and always helpful and responsive."
"Jettison are a company who I have used regularity for some time, they are always very responsive, value for money and extremely professional. The service is also flexible and I would recommend them to anyone."
"Worked with Jettison a few times and must say have been impressed by the general response to our requests and couldn't have done enough to sort out a tricky waste removal from a city Centre site."
We enjoy nothing better than taking on a project or challenge other companies might shy away from.  We're a 'think on your feet & out of the box' kind of team and we'll always come up with a solution for our clients, albeit this might take a bit of head scratching.
Our Office
Head Office: 47-51 Glasgow Rd, Rutherglen, Glasgow G73 1LJ